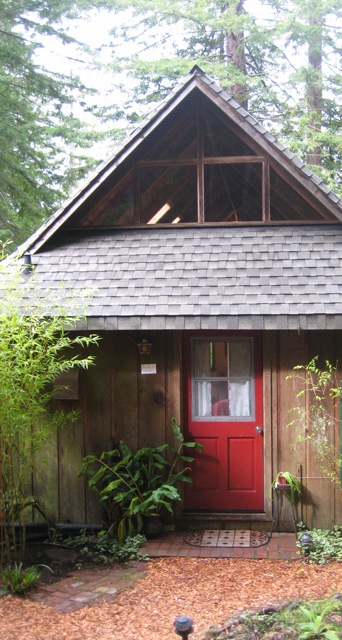 Ames House – cottage with one bedroom and adjoining bathroom with shower; living room and large brick fireplace with comfortable reading chairs and good lighting; adjoining dining area and kitchen with full size fridge; second story open loft (accessible by stairway) offering views west to the horizon and east to a majestic stand of redwoods.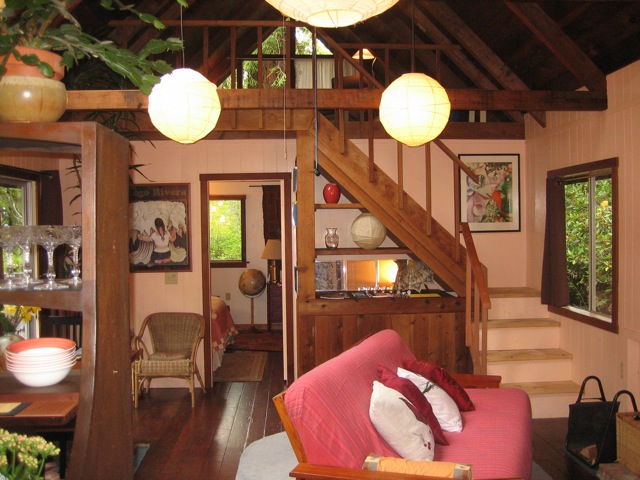 View from the front door of the living room and cottage interior with futon couch (second double bed) in front of the fireplace; bedroom straight back to the left with window to the west (more pictures of bedroom to follow); dining room table to the left; stairs to the loft. The chair under the Diego Rivera painting is situated to catch the morning sun.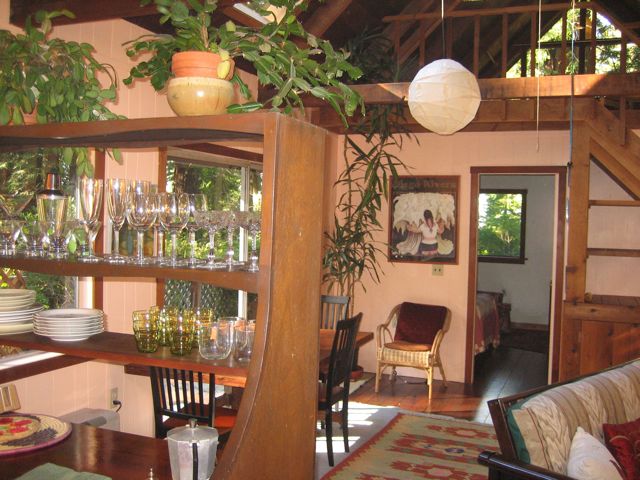 View to the left of the entry with kitchen on the left.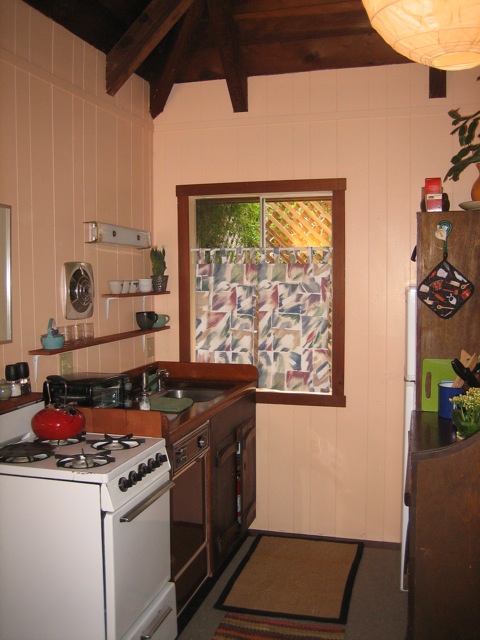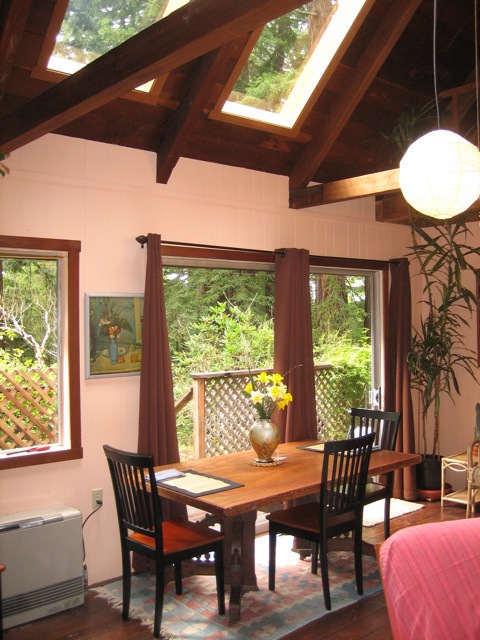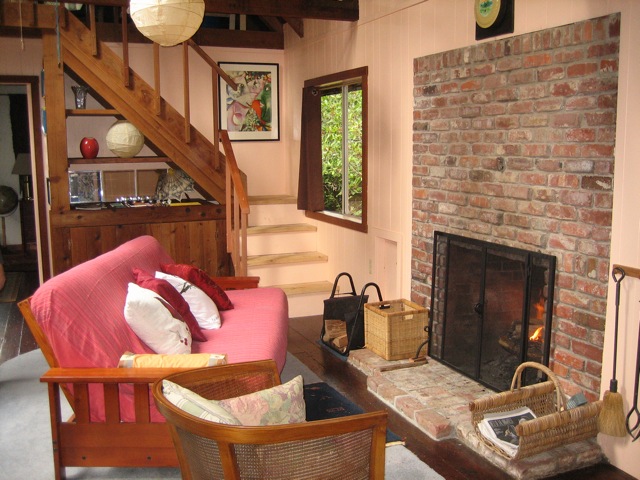 "Pullman kitchen" with 4 burner gas stove, oven, full-size fridge, toaster oven, and dishwasher. Kitchen stocked with pots, pans, and utensils; fridge stocked with juice, milk, butter, yogurt, and eggs. Other supplies include coffee, tea, oil, vinegar, and basic spices.
Dining room table seats 4; gas heater warms the house.
We provide the wood and a fire ready for you to light.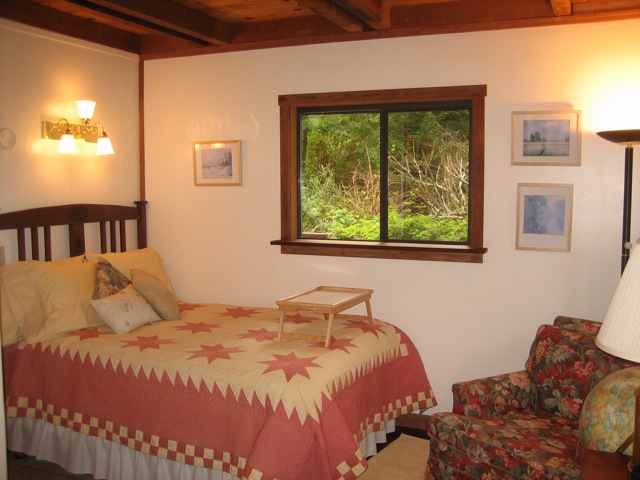 Firm double bed with reading light above; comfy reading chair.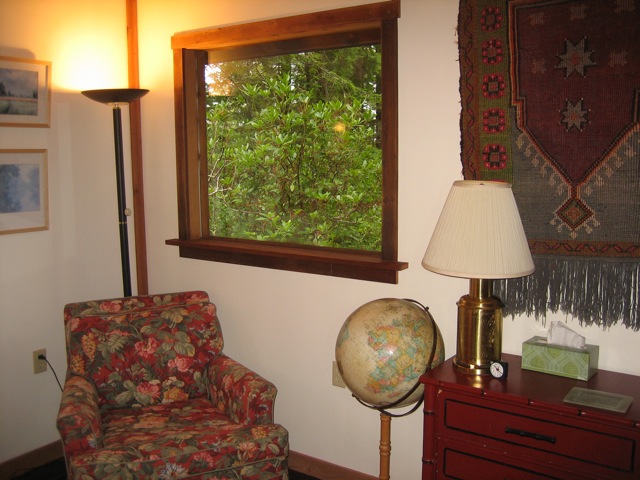 Sunset view to the west; bedroom has roomy closet and 3-drawer bureau.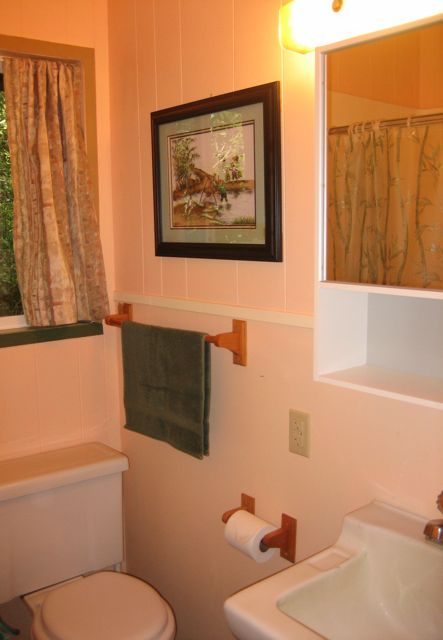 Adjoining the bedroom is the bathroom with shower.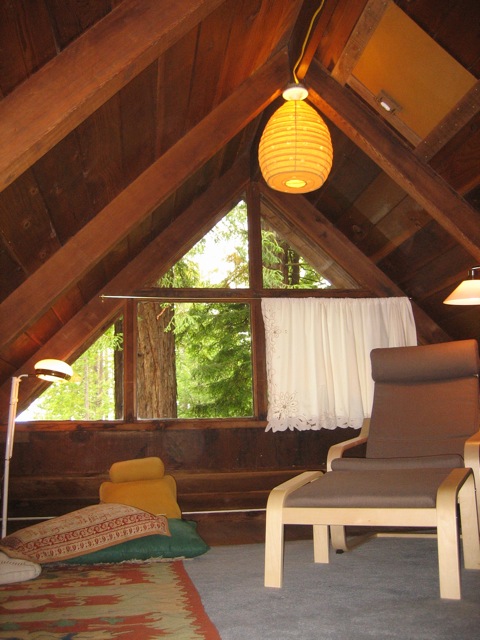 Loft retreat for reading, yoga, and viewing the sunsets and big trees.
Rates
2 night minimum
$165/night for 1-2 adults
11% tax. Cleaning fee: $40.00

Additional 1 child under 12 no charge

Extra person add $45 per night

Extra 2 people add $80 per night

3 completely different special deals!
Early Bird Special: 10% discount on reservations made 90 days or more in advance.
Full Week Special: With a reservation of 7 or more nights, 1 night is free.
Ten-Day Midweek Special: Arrive Monday 3pm, depart Thursday noon of the following week, and enjoy 10 nights for the price of 8.
Ames House has 1 parking space. Please mention at time of booking if you expect to have more than one car.
This is a non-smoking environment.
We are dog-friendly by prior arrangement, with a surcharge of $25 per dog.
Email now to reserve: bookings@mcn.org
Cancellation policy:
For cancellations one week or more before the reservation start date: raincheck, or refund minus an administrative fee of 1/2 the total fee paid.
For cancellations less than one week before the reservation start date: no raincheck or refund.