Big River Ridge Cottage – Main room with beautiful vintage wooden bed, futon couch, comfortable reading chair, good lighting, desk and dining/art table, and lovely views through the many windows of forests dappled with sunshine or glistening from the morning dew.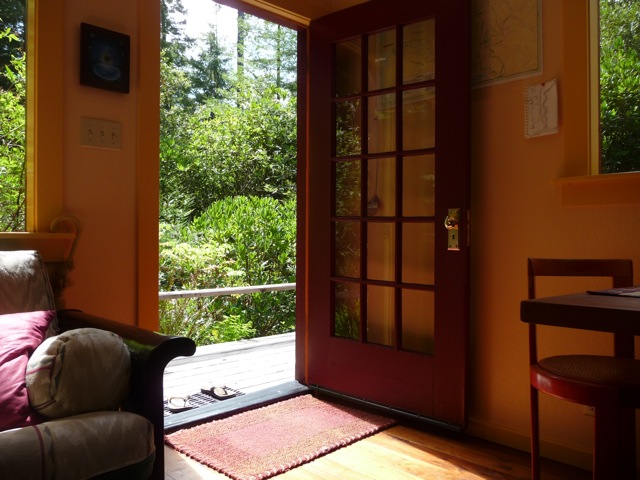 From the bed, the open door shows the south deck and woods beyond for views of Big River and sunsets.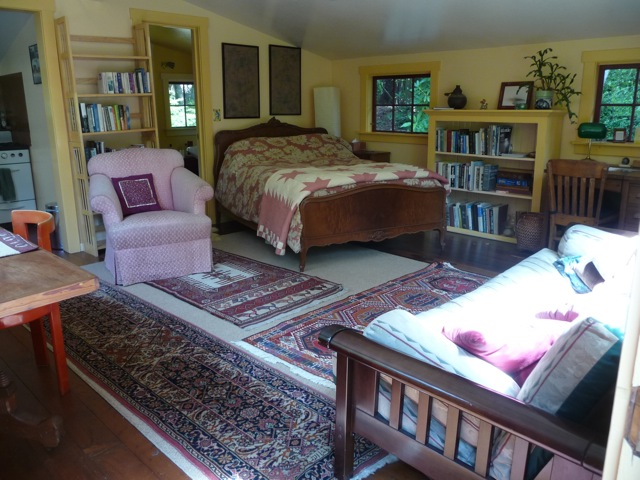 Main room of 440 square foot cottage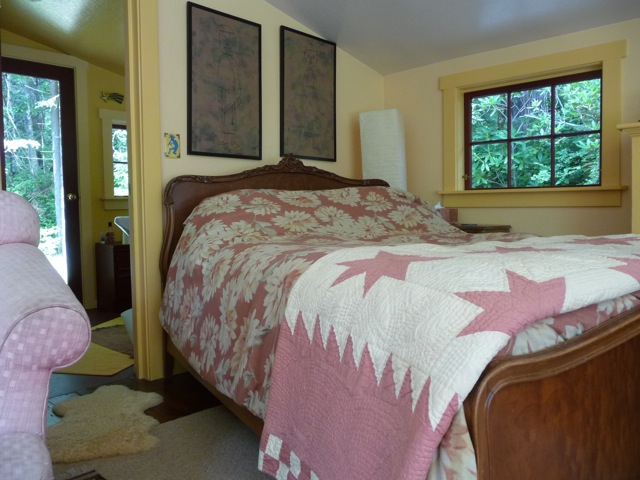 …. our comfortable double bed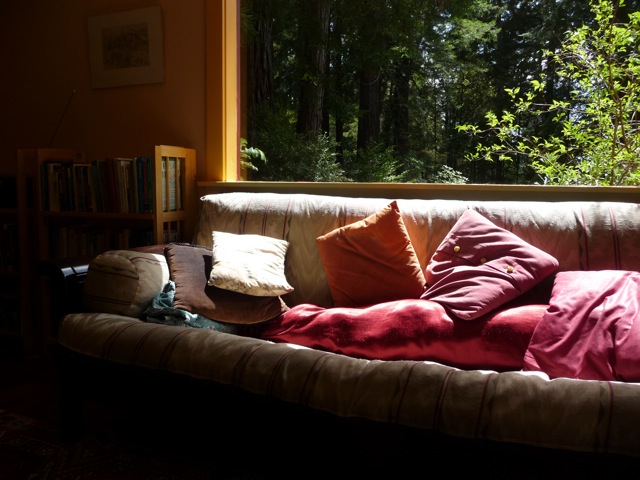 Comfy futon pillow couch is nice for reading and lazing about, or open it up for a second double bed.
Another comfortable reading spot near the Jotul enamel gas fireplace………in the background to the left is the small but well-stocked kitchen.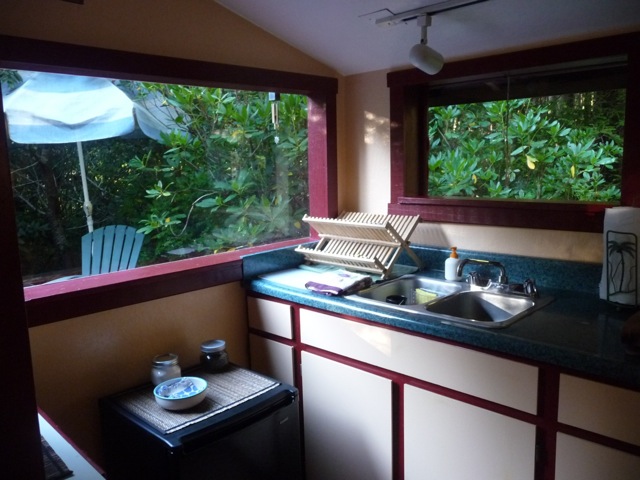 Kitchen contains pots, pans, utensils, some basic small appliances, and gas cooking stove with oven; fridge stocked with juice, milk, butter, yogurt, and eggs; other supplies include coffee, tea, oil, vinegar, and basic spices.
Bathroom with deep claw-foot tub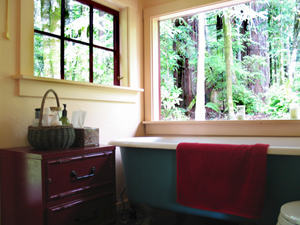 overlooking gardens and forest of oaks, redwoods, rhododendrons and huckleberries, totally private so you can soak and muse to your heart's content. Outdoor shower is secluded on the west-facing deck.
Desk Corner
People love our extensive and varied library and have commented on the eclectic nature of the books. Art and writing supplies are also available. Games include Scrabble, Pirate, and Monopoly, along with cribbage board, dominoes, chess, cards, and poker chips.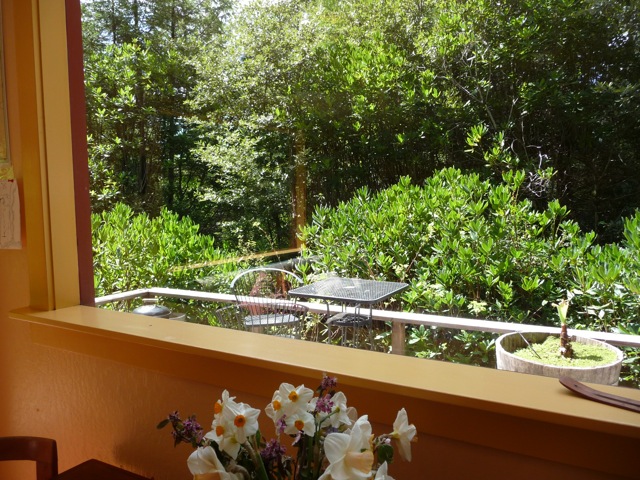 View of west deck from dining table window showing rhododendrons in autumn. Imagine them all in bloom in the spring. You can always look forward to fresh flowers on the table.
Regular Rate:
Booking is a 2 night minimum. Cottage is available for booking on Thursdays, Fridays, Saturdays and Sundays.
$185/night for 1-2 adults.
Add 11% tax.
Extra person, including children: add $45 per night

Contact me with any questions about days!
The Cottage has 1 parking space, a 2 minute walk on lighted forest paths. Please mention at time of booking if you expect to have more than one car.
This is a non-smoking environment.
No pets please. Thank you for your understanding.
Email now to reserve: bookings@mcn.org
Cancellation policy
For cancellations one week or more before the reservation start date: raincheck, or refund minus an administrative fee of 1/2 the total fee paid.
For cancellations less than one week before the reservation start date: no raincheck or refund.
Rain check lasts for 1 year. If you plan to reschedule for next year at the same time, simply let me know.